January was trash.

Like most people, I was super excited to start the new year. To my heart's desire (and many prayers), I ended 2018 with some much needed closure, forgiveness and gratitude. I made it a point to believe that since 2018 was a bit challenging, particularly my anxiety, that the approaching year just HAD to be better. I believed that wholeheartedly, awaiting with open arms to receive all that 2019 would have for me.
Somewhere between my excitement and anticipation for the new year was…well… a lack of preparation. I was so consumed in my efforts to finish the previous year as "correctly" as I possibly could, that it slipped my mind (and my time) to lay the foundation for 2019. I had nothing.

No vision board.
No set goals.
Nothing.
"Where there is no vision, there is no hope."
Simply put in the most urban way: January was trash for me.
I lacked intention, therefore I lacked focus. Daily I set out to do the bare minimum, I didn't mean to, but I did. Fitness goals (plus a muscle gain that I was so proud of!) depleted by the day. I lacked inspiration and drive, which is a deadly combination when maintaining a brand as a writer. (because what are the people going to read?!)  Most importantly, my prayer life? Rated E for Empty. It was pretty nonexistent.
It may sound a bit dramatic being that January hasn't ended yet, but it's true – your start has the ability to set the tone of your finish, if you don't take control. I started out 2019 with little to no expectation. Truth is, an idle mind is the enemy's (and your inner me's) playground and that's where I found myself. Idle in my thinking, in my way of working and ultimately, in my way of living.

Then it hit me.
Me: "Tara, what were your goals for this month? Better yet, this year?"
Also me:

As difficult as it was to realize this, I found beauty in my desire to reroute. (Yes, I didn't like how things were going  just 30 days into the new year.) I knew that if I didn't get it together soon, I would set the precedent for the remainder of the year. I wasn't having that. NAH.

---

If you haven't started off the year as strongly as you hoped to, you're in good company. *waves to you*
Here's what helped me (and can help you) gain control of 2019.
It's time to get intentional.


One weekend, I sat down and started to plan out what I wanted to achieve. If you want to get super specific and set goals for individual months and weeks, go right ahead. The more specific you get, the better. No goal is too small or too big. Lay out your execution.

Write it down.


Sometimes we set goals mentally, failing to write them down on paper. "Write the vision, make it plain." There's something powerful about having your goal in writing. I look at it as the first step to manifestation. Think: You are so intentional about making it happen that you've put it on paper to hold yourself accountable. Let it serve as a contract between you and…well…you. 

Consistent Prayer Time.


It's no secret that I am a Believer. Everything that I do (though I could definitely do better a job at seeking Him) I take to God in prayer. Every idea, every plan, I want His guidance and approval. Without that, it's a done deal.

Declutter.


Every. Single. Thing. Your room, your workspace, your phone, all that. It's hard to embrace the new when you're still holding on to the old. Think: trying to receive money with a closed fist. It won't work. Make peace with what was so that you can fully receive what will be.

Refer back to number 3 because whew, chillay– you'll need it.


And that's that.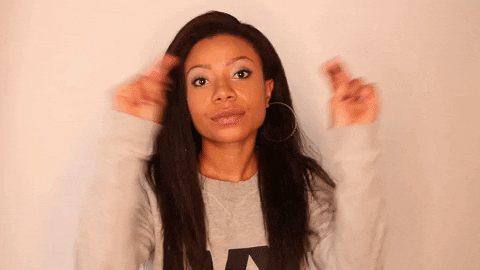 2019 has the potential to be one of the best for you. Believe that. 
Keep dreaming.
Keep pushing.
And most importantly — keep going.